I have recruited for many
nursing and healthcare positions
in the UK and have created interviews for jobs ranging from healthcare and nursing assistants, staff nurses at all grades, practice, district and registered nurses and nurse team leaders.I am aware that for many people an interview can be a daunting prospect and in fact, the fear of interviews puts many off moving to a new employer or applying for a new job.
Sadly, they miss out on potentially great promotions, increased salary, and more interesting roles and this need not be the case.
This article includes a guide to the types of questions you are likely to encounter in nursing and healthcare job interviews for bands 4, 5, 6 7 and 8.
Interview Questions for Nursing Job Interviews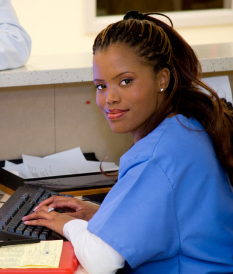 Within the NHS today, you will more than likely be asked to take part in a Competency Based Interview, a Strengths Based or even a Blended Interview either in front of a panel or with an individual and will be asked a series of questions exploring your skills, qualifications and experience.
I have split the questions into the following four categories.
1. Training and Qualifications: In this category you should expect questions exploring your understanding of governance, clinical effectiveness, NHS and Trust targets as well as your understanding of medical terminology.
2. Previous Experience: The interviewer will ask questions based on your experience as shown on your CV.
3. Core Competencies: This relates to key skills required such as your ability to have good time management, to work in or manage a team, to demonstrate effective communication and patient care skills and the application of your technical medical knowledge.
4. Personality, Motivation and Coping Skills: Your reasons for applying or for choosing your area of specialisation and how well you deal with difficult situations such as the death of one of your patients.
Expect 3-4 questions on each area along with questions relating to your understanding of issues and targets within the NHS.
The 6Cs and NHS Hot Topics
You must keep your knowledge and skills up to date and you will be asked questions related to the 6Cs and NHS Hot Topics. For the former you may find questions asking scenario based questions selectively for example – "Tell us about a time when you showed true compassion when dealing with a patient." For these you will need to use the STAR or iPAR to structure your answers and your example will need to be clear and strong enough to demonstrate the quality you are being asked about.
Depending on your level they may ask more general questions such as 'Which of the 6Cs do you deem is most important?" You must mention the equal importance of all however you can then give an example of when you demonstrated them in your work with emphasis on perhaps 2 or 3 in particular.
Remember there may be questions certainly from Band 6 and above regarding NHS Hot Topics, for example, Mental Health issues, Funding, the Charlie Gard case. You may even be asked how older issues are affecting your daily care such as the the Francis report. You can of course link your answer back to the 6Cs once again selecting 2 or 3 of the different values and talking through an example which shows how you demonstrated them.
Sample Interview Questions for Nursing Interviews
You should expect many of your questions to be Competency Based and Behavioural based asking for specific examples or scenarios.
For example, how would you answer these questions?
Interview Question 1: 'Talk us through an example which demonstrates your ability to deal effectively with Emergency situations.'
Interview Question 2: 'Describe a time when you used your communication skills to improve the care of on of your patients'
Interview Question 3: 'Describe for us a time when you used your leadership skills to resolve a difficult patient situation.'
Interview Question 4: 'Tell us about a change you made to your working practices in order to improve patient safety.'
Interview Question 5: 'How would you go about ensuring that you improve the quality of the care you give to your patients?'
Interview Question 6: 'Tell us about a decision you made recently which had a positive effect on your patient's care.'
Interview Question 7: 'How would you show Courage in your daily rounds. Give us a recent example.'
Interview Question 8: 'How would you say the 6Cs have improved the level of care you give?'
* Questions taken from the InterviewGold Interview System.
How to Succeed in Your Nursing Interview
Nursing interviews can be challenging; mostly they are Competency Based in front of a large panel and for many candidates these can be daunting. More recently some NHS Trusts have introduced Value Based Recruitment and incorporate Strengths Based and Blended Interview techniques into the process.
However with proper preparation and effective practice you can master any NHS interview and walk away with the job offer and this is where InterviewGold for Nursing will help.
With InterviewGold, not only will you learn all the skills to succeed in any interview in Nursing, you will also discover the questions most likely to arise and you will get expert sample answers.