By Joe McDermott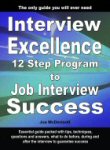 268 Pages
Price: £9.95
Buy Paperback

Developed after years of research by HR professionals this unique program takes you through the 12 key steps guaranteed to help you win great job offers.
Order now and learn:
The three factors every interviewer is looking for
How to succeed in any interview type including panel and telephone interviews
How to build rapport with an inexperienced interviewer
How to overcome interview nerves
How to create a perfect first impression
How to keep your profile at the top of the list when the interviewer is making their decision
This guide includes 210 job interview questions along with sample answers based on actual replies given by winning and losing candidates at job interviews.
Table of Contents
Introduction
Part 1: Essential Theory
Chapter 1. Interview Basics
Chapter 2. How to succeed in any Interview
Chapter 3. The Interview Structure
Chapter 4. Interview Questions Analysed
Part II: 12 Steps to Interview Success
Takes you through in exact detail the key actions you need to take in today's competitive job market to secure the top job offers.
Part III: Top Answers to Top Questions
210 Job Interview Questions with 120 detailed sample answers as given by winning candidates which can be used to answer almost any question. Also included is an analysis of what the interviewer is looking for with each question and 120 answers guaranteed to lose you the job.
How to Purchase
Price: £9.95 ¦ Buy Paperback (Amazon)