By Joe McDermott and Andrew Reed
** REVISED AND UPDATED 2012 **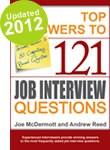 2nd Edition
Published 15/02/2012
Pages 247
Buy Paperback £8.95
Buy Kindle £4.90
Are you worried about what to to say in your job interview?
Unsure how to answer correctly? Missing out on jobs because of mistakes
you are making?
Leading interview coaches, Joe McDermott and Andrew Reed give you
winning answers to the most frequently asked job interview questions
including behavioural and competency based questions. With this expert
guide you will know just what to say to win the job you want.
Gives you winning answers to 121 of the most frequently asked questions
Including answers to 80 Competency Based and Behavioural questions
Shows you step by step how to predict the questions you will be asked
Analyses exactly what the interviewer is looking for
Gives guidance on what to say to score top marks
Details answers to avoid at all costs
Provides magic formulas and expert structures proven to work
Includes powerful strategies for success in any interview at any level
Table of Contents
INTRODUCTION
About us
How this book will help you win your next job
Are you making these common mistakes?
Case Study – 50 interviews and no job offers
How to use this book
Interview questions answered
PART 1: ESSENTIAL LEARNING
Chapter 1: Interviews Explained
So what is a job interview?
Why interview?
What every interviewer is looking for
Chapter 2: The Power of Preparation
Why prepare?
Advantages of interview preparation
Get into the right mindset
Chapter 3: Interview Questions Made Easy
Common types of interview questions
Common questioning styles
Chapter 4: Powerful Interview Techniques That Win Jobs
Make a great first impression
Top techniques for a great performance
Common interview mistakes and how to avoid them
Chapter 5: Predict What They Will Ask You
Up to 80% accuracy
Follow the interviewer
What you will need
Step by step guide
Chapter 6: Answer Any Interview Question Like A Pro
Six golden rules
How to answer Competency Based questions
Winning structures for Competency Based answers
Magic formula for the toughest interview questions
PART 2: TOP ANSWERS TO 121 INTERVIEW QUESTIONS
The Ten Common Most Common Questions  – (Questions 1-10)
Competency Based Questions – General  (Questions 11-20)
Competency Based Questions – Specific (Questions 21-70)
(Achieving Results, Persuading and Influencing, Team Working,
Customer Service, Leadership and Supervision, Communication, Planning
and Organising, Project Management, Decision Making, Financial
Management, IT and Systems.)
Personality Assessment Questions  (Questions 70-80)
Commitment Testing Questions (Questions 81-91)
Questions for Graduates (Questions 92-101)
Stress and Surprise Questions (Questions 102-121)
Great Questions To Ask
How to Purchase
2nd Edition Published 15/02/2012
Buy Paperback £8.95 (Amazon) ¦ Buy Kindle £4.90 (Amazon)