These articles contains top tips to help you arrive at your interview fully prepared and confident of success. These relate to all aspects of the interview process and are designed to help you walk away with the job offer.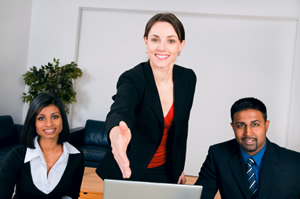 Whether you are attending a one-on-one interview, a panel interview or even a Competency Based Interview you will find some expert tips here to help make sure you are at the top of the selection list. We provide advice on how to prepare for the interview, how to develop your interview skills and how to present yourself confidently in the interview.
Ten Best Job Interview Tips For Success
Ok, so here are 10 great interview tips for getting the job. Remember, the smallest of things can make all the difference between a successful interview and a losing one. Read on….
1. Discover All About the Interview: If being recruited through an agency get them to earn their fee by finding out as much detail as possible about the job interview. What format is it going to take, where is it being held, at an assessment centre or in the recruiters office, will a psychometric test be involved, how long will it take, all day or just an hour.
2. Ask around. This is a great job interview tip. You may know somebody who works for or has worked for the company and who may know your prospective boss. they can tell
you a lot about the culture of the organisation and the skills they value.
3. Anticipate the Questions: Anticipating the questions you might be asked and practicing the answers until you can deliver them smoothly and naturally is a useful interview tip and key to performing well in an interview.
4. Mock Interview: Another great job interview tip is to conduct a mock interview beforehand with a colleague or partner acting as the interviewer. This will go a long way towards helping you feel relaxed, confident and in control during the actual interview.
5.Spend Your Time Wisely:  It is often recommended that you go along to interviews for jobs you are not interested in just to get practice. Be wary, chances are the interviewer will pick up on this, you will not get the job and this rejection could impact on your confidence levels.
6. Avoid Notetaking: Don't take notes during the interview. It will only give the impression that you are not listening or cannot retain information.
7. You are Wanted: Never feel that you are begging for a job or that the employer has all the power. Interviewing is always a two way process and you are offering something which the interviewer desperately wants.
8. Smile: A useful tip if you are being interviewed over the telephone is to smile. While the caller cannot see you they will detect this in the quality of your voice. In addition you will feel better and more positive and this will also come across.
9. Remember Names: Remember your interviewer's name and use it during the interview.
10. Follow Up: Once the job interview is over remember to use proper follow up procedures to keep you at the forefront of the interviewers mind when they are making a decision.
3 Extra Tips To Avoid Interview Mistakes
As an experienced interviewer I am always surprised by how poorly some candidates perform in the interview. Even some of the most powerful and senior candidates have made simple yet drastic mistakes that have ultimately cost them the job offer.
Don't let this happen to you! Here are what I see as being three of the more common mistakes made and how to avoid them:
1. Arriving Late:
It is such an obvious mistake and yet in my experience about 15% of applicants arrive late for their interview. This could be due to any number of factors however in my book, there is really no excuse.
If you are unsure of how long the journey will take either leave with at least 30 minutes extra time to do a trial journey a few days before the interview.
2. The Wrong Clothing
An interview is not a casual event no matter what the dress code of the recruiting organisation. Make an effort to dress up; it will show that you care that you are interested and that you can present a
professional image
3. Showing Desperation:
This can be seen either in the answers being given which show that the candidate has been out of work for a time and is now getting desperate. It can come across as being too friendly and trying to cajole the interviewer into giving them the job. Either way, desperation is not attractive and even if you are in such a state, don't mention or show this
Top Tip – Try this Interview Etiquette Test
In a job interview it is very often the little things that make a difference. What you wear how you first present yourself, the answers you give all have an impact and are
important however don't forget the small details which can result in success or in failure.
Here is a little test of your job interview etiquette:
You are invited into the interview which is taking place in the interviewers office. It has a desk and 2 chairs, one on either side of the desk. You are carrying your briefcase / handbag. Where do you put it?
a. On the desk
b. Keep it on your lap
c. Put it on the floor
Option a. would involve an invasion of the interviewers 'personal space' and immediately get the interview off to a poor start. Option b. could give the impression that you are in
a hurry to leave and not feeling comfortable. We recommend option c. however, suggest that any bags, briefcases and overcoats are left outside interview room if possible. Alternatively, place them on a spare chair if available.
While all of this may seem very obvious, it is very surprising how many job interview candidates we have interviewed who forget some very simple techniques for creating a good impression.
Either through lack of knowledge, inexperience or straight forward arrogance it is these small elements which for us as interviewers make all the difference between a winning and a losing candidate.