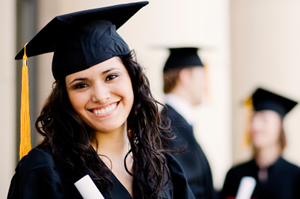 For a graduate or school leaver facing their first interview, there will be understandable concern over the types of interview questions asked. You are unlikely to have had much work experience to draw from, therefore interviewers will focus more on asking questions that will tell them about the kind of person you are rather than the sort of work you've done.
Interview Questions Will Be About You
Characteristics like tenacity, intuition, tenacity, reliability etc are all desirable in most jobs and the interviewer will pose question targeted at finding out just what makes you tick.
They may ask why you choose to study this particular subject or university and these questions will look st how you think and make decisions.
It is possible that an interview will start with some simple fact checking about the qualifications and educational experience you've had. This is partly to settle you in to
the interview process but also to see whether you've embellished anything.
Here are some sample interview questions for graduates. See how you would answer them:
Why did you choose this university or college?
Why did you choose to study these particular subjects in school / university?
Your degree/qualifications are not relevant for this role. Do you see that being a problem?
How has college life prepared you for a career in this Sector?
How would your teachers/lecturers describe you?
How would you say your degree/qualifications will help you contribute to this role?
Tell me about your life at school / college/ university.
Give me an example of a situation where you have shown leadership?
Besides your academic qualifications what can you offer to us?
What in your opinion are the greatest challenges facing graduates/school leavers as they enter today's job market?
What have you learned which will be of use to you in doing this job?
What type of student were you, how would you describe yourself?
Competency Based Interview Questions For Graduates
Many employers are now using Competency Based Interviewing whereby questions are aimed at discovering if you have relevant 'competencies'. These are the skills the company has identified as the ones they want people to have in the position they're looking to fill.
For someone with years of work experience, Competency Based Interview questions will be a little easier to answer. For most graduates and school leavers however, finding examples where you have demonstrated competencies may be more difficult.
The key when answering is to look for situations during your academic career and not just related to your studies. Perhaps your involvement in sports could be used to demonstrate your team working skills; maybe your experience as a member of the debating team can show your communication skills; a year out traveling may have helped you acquire a new language or skills dealing with negotiation or project management.
How to Answer Follow Up Interview Questions
Keep in mind that an interviewer may choose to probe further into any situation so make sure that you have all the details of any of these outside activities and be prepared to be asked follow up questions such as:
"What did you feel you gained from doing this?"
"Could you have done anything differently that might have improved the outcome?"
These could equally be applied to the way your tackled your academic work too. If you had a project element in a qualification, or a research-led component like a theses or
dissertation, then expect to be asked about how you did them. You're likely to be questioned on the approach you took, how you managed your workload and how well you thought it worked out.
Open Interview Questions Draw Out More
If you were active in sports, music or drama inside or outside your educational establishment then you can expect questions about the part you played in those
activities. If you were a leader, for example a captain, a director, or something like that, then say so, but without bragging.
Then there will be general questions that try to draw out what you think of yourself. Most of these will be open questions, asking you how other people see you, why you
applied for the job and what you consider to be your strengths and weaknesses. There may also be more questions about what you see in the job and what you can offer the company but these are more likely for graduates than school leavers.
Be Honest and Be Yourself
The main thing to remember is that being honest and open is probably the best policy. By all means get all the information you can about the company and the job, and you
should definitely practice and rehears answering questions you might find difficult. But if you are trying too hard to get a job that isn't a good fit for you, you are unlikely to fool a professional interviewer.
And if you do, then you'll end up in a job you don't want, and they'll have an employee who's unlikely to deliver the goods, so no one wins.
More Articles for Graduates